Kate Balcomb-Johns DO (M.Ost.)
Registered Osteopath.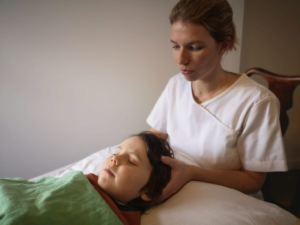 Kate Balcomb-Johns is a fully registered osteopath with the General Osteopathic Council and a member of the Institute  of Osteopathy.
She graduated with Chris and Elisa from the European School of Osteopathy in 2014 and is relocating from Beverley to join Glossop Osteopathy Clinic in April 2022.
She has previously worked in two busy multidisciplinary clinics treating patients of all ages and has a great deal of experience treating babies and women during pregnancy.
Kate is a certified Perrin Practitioner treating patients suffering with ME/CFS as well as long Covid-19. She has also had further training in cranial osteopathy at the Sutherland Cranial College of Osteopathy.
Kate spends her free time exploring the outdoors with her two young sons, and her dog, and is very excited to join Glossop Osteopathic Clinic.
Copyright © Dandelion by Pexeto